Friday, June 30, 2006
Fun In the Plan
This weekend I will be house-sitting for my Mom. Mostly so that I can take care of her dog, Bleu. But she has a pool and it's supposed to be 96 degrees tomorrow so the pool will be fantastic.
I have Monday and Tuesday off for the July 4th holiday. I'm hoping it won't be too hot those days so Hubby & I can go something fun. We haven't been to the Congaree Swamp in a long time and I really love it. Maybe we'll go there.
Tuesday, June 27, 2006
Videos and Sturkie Girls
This video
cracks me up.
I gave my sister her present today. She turned 19 yesterday. She cried. She loved it.
Video Here
(might have to keep checking back)
We took a lot of pictures together.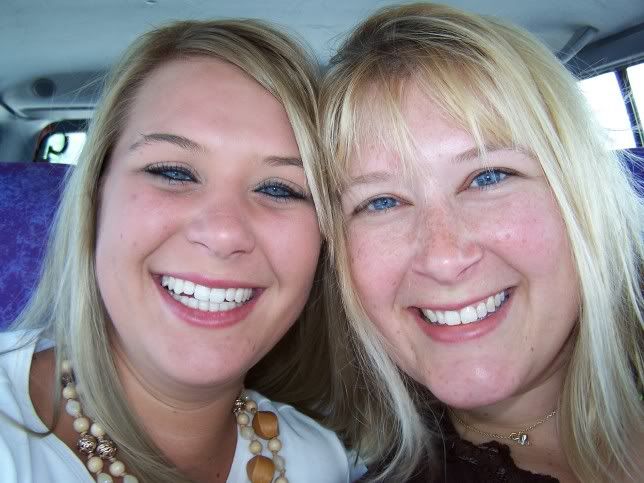 Pimpage
If you like retro avatars, join livejournal and retro challenge.
We need more creators and voters. It's a lot of fun.
Monday, June 26, 2006
I Got Mad Skilz
Well not really, but avatars I have made. Multi-fandom love:
Elvis, Judy Garland, Katherine Hepburn, Olivia Newton-John and 2 I made for a retro challenge at Livejournal. Feel free to use these if you want, but please give me the credit and don't hotlink them.
Friday, June 23, 2006
Weekend - Yay?
Usually I adore Fridays. The atmosphere at work is usually a bit lighter and the ride home almost always feels joyous. However, today I keep just thinking about the work I will be doing at my rental property and knowing that it will be in the upper 90s again. I'm really tired of this hot ass weather.

I just finished watching my downloaded season 5 finale of Smallville which I had missed. Pretty good episode. The imagery was beautiful. But how come every time I watch videos on my computer the audio and visual get out of sync? It's so annoying. Interesting cliffhanger Smallville left with. I wonder how Clark will get out of that. Although I think Clark should have been naked. That would have worked much better for me! ;)

Thursday, June 22, 2006
Wish I Could Think of Something More To Say
I feel so blah today. I'm not in a bad mood. Not in a great mood. I'm just....here.

I've decided not to update myspace anymore. I've been posting my blog entries there as well but no one looks at it (not that anyone looks here either) but I'm turned off my myspace in general. It's just so pre-teen to me. Plus I hate getting all these "friend requests" from wannabe stars. I guess it's fine for them but I want to get to know people and I don't just promote myself randomly. Plus I just don't have the time to get involved in anyone else's blogs.

I'm pissed at myself for forgetting about Rescue Me Tuesday night.

My belly is rumbling. It's lunch time.

Monday, June 19, 2006
Jekyll Island pictures
Get ready. I have left photos rather large to show detail.

Jekyll Island Club where the millionaries played during the early part of the 1900's. Note the croquet court on the front lawn.
The Rockefeller's winter home sits across from the Island Club and has the largest windows I have ever seen. Compare to my cousin sitting in front of one.
The Sans Souci sits across from the Island Club as well. It was the first condominiums in the U.S. It is now a hotel.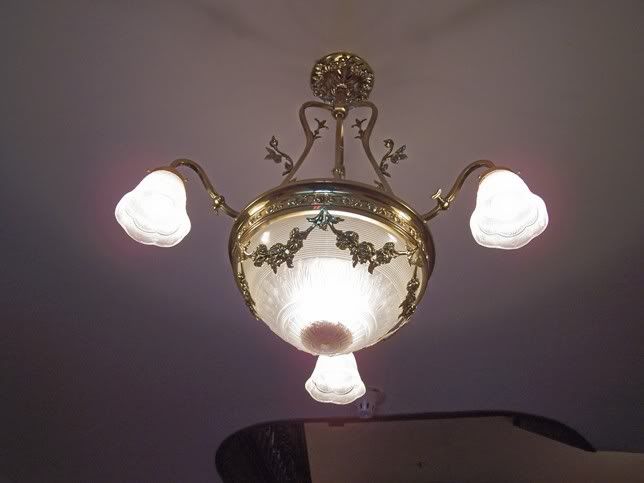 various trees and groves w/ a Golden Isles/Brunwick native - Spanish Moss
marsh view:

Crane Cottage
can't remember the name of this cottage. they've been renovating it for 15 years and from the peeks I took inside - it still has a long way to go. note the platform on the staircase for people to step out of their carriages.
miscellaneous building. i just liked this doorway

remains from a burned cottage had these GORGEOUS lions flanking the staircase. i bet these would go for a fortune at an auction.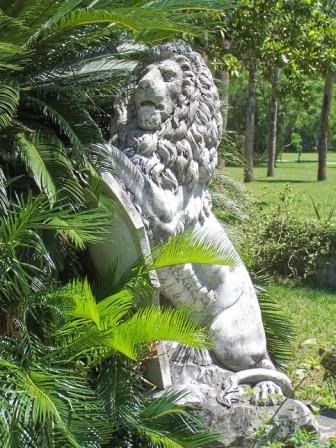 Plantation Oak. The largest and most beautiful of oaks on Jekyll Island. The plague is rather old but it states that it has a 7'3" diameter, 128' limb to limb, 23' girth, 112' high, estimated 350 years old. I wish I had a wide angle lens to get the entire tree. Many of the lower limbs go into the ground and back out again. It's really quite breathtaking.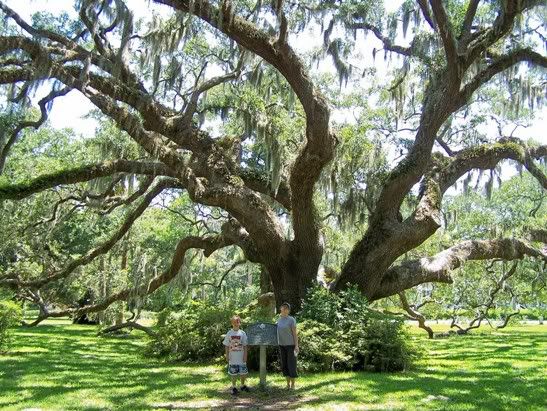 I also visited my grandmother's grave. While in the cemetary I took a picture of a family plot I liked that was dated around 1915.
and an angel that I just fell in love with so I had to take tons.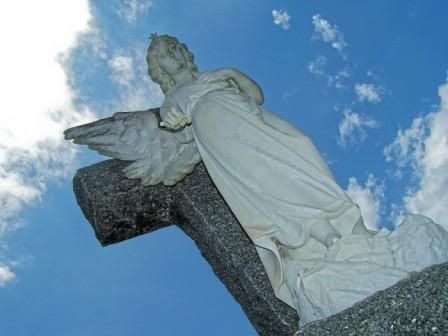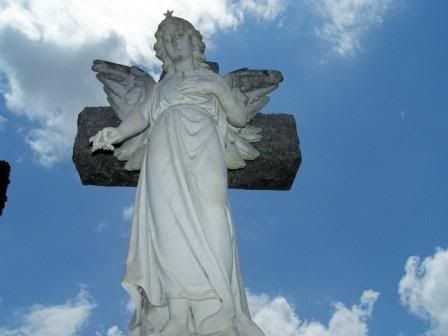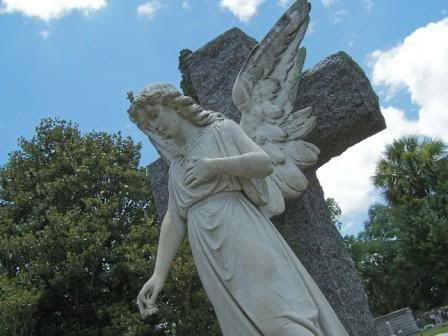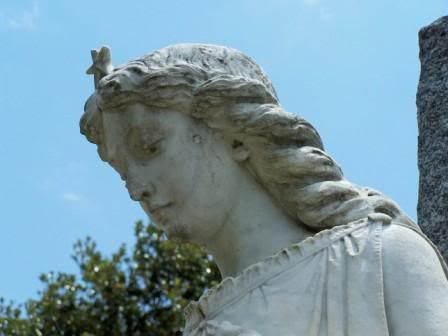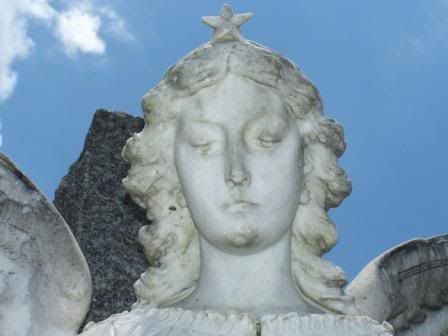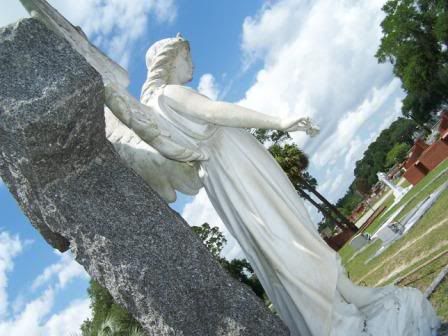 and my favorite: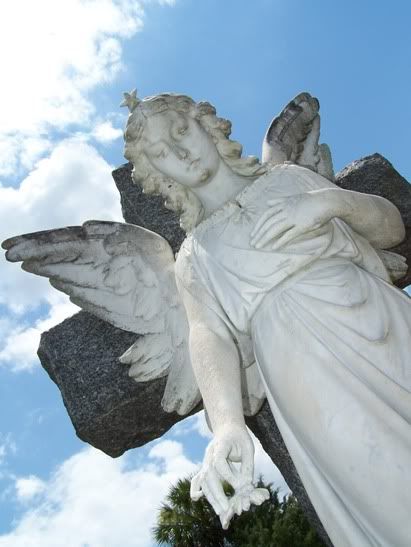 Looky Looky at my new toys: