Tuesday, January 31, 2006
Eek!
A pipe burst in front of our office this morning so we have no water. WHICH MEANS, no bathroom- in an office of 15 women.

This isn't going to be a fun day.

Monday, January 30, 2006
Whew! I almost started to panic
but alas, my blog is back up. I had to go to Divas so I could get into the dashboard and from there had to republish my blog. Don't know what happened to it, but let it NEVER happen again!
I'm exhausted this morning. I don't know why. I slept my normal amount of hours but my whole body feels tired. I hope I don't crash right on my desk today. I went to Greenville and now that my house is unpacked it's starting to feel like home which means it makes it really hard to come back to Columbia. So maybe that's why I feel so tired this morning. I'm emotionally drained.
I was a big 'ol crybaby this weekend (and I'm not even pms'ing). Friday night I went to the movies with Ashley and saw The Family Stone. Which while it made me laugh I also cried. (I give the movie a solid B+ though). Saturday morning while sitting with my grandma I watched A Walk To Remember and bawled my eyes out again. (I give this movie a B-) and then last night the episode of Grey's Anatomy had me crying until I gave myself a headache. (this show always gets an A+) Feeling just a wee bit sensitive I guess.
Last night I dreamed I had a little girl. I've had these dreams before and I always go straight from being pregant to having the child, skipping the birthing process all together. And I know I dreamed it last night because I was telling my husband this weekend of how I've been thinking about children (and whether or not to have them) lately. But in my dream, she was so beautiful. And she made me so happy. I didn't want to wake up. Is that an answer to my quandry?
So now, I shall begin my Queen Bee's meme:
1. When you made your sex video with Paris Hilton, was
the dog present?
of course. i told you she goes everywhere with me.
2. Would you rather have a piece of Mr. T's Bling or
one of Flava Flav's clocks? Keep in mind they are of
equal street value.
Mr. T because I'm still holding on for an A-Team reunion
3. When was the moment you realized you were in love
with Fox Mulder?
um, like, never
4. You're faced with a choice: Riverdance or Gretchen
Wilson. What to do?
Riverdance, hell yeah. I can really admire someone who can dance without moving their arms.
5. You're stopped in traffic. There is a guy and a
girl having a not-terribly heated argument in the car
next to yours. What are they fighting about?
Well in my mind, which is all-too boring and unimaginative, it is heated and they are fighting over him looking at another woman which always seems to happen in real life.
6. Elton John has already stabbed Rod Stewart and
George Michael in the back. Is the Queen next?
yes. Elton John is a freak of a man who cannot be stopped.
7. Re-cast The Breakfast Club with current Film stars
that don't make you barf.
oooh.

Natalie Portman

as The Princess (aka Molly Ringwald), Shane West

as The Athlete because I think he can totally pull off that good-looking, all around, overachieving type

, Bryce Dallas Howard

as The Basketcase (aka Ally Sheedy),

Tom Lenk as The Brain (aka Anthony Michael Hall) because he can totally do it and he needs the big break,

Ryan Reynolds

as The Criminal (aka Judd Nelson) -
this is, of course, an obvious ploy to see Mr. Reynolds shirtless which will be written into the script.
Of course, if you ask me this question next week, I'll have a completely different group of actors.
8. It's Like This and Like That and Like
This....discuss.
because it's like, totally rad.
9. Who blinded you with Science?
Coach Maddox. He was the football coach and the biology teacher and I had such a hard on for him. I used to just stare him down during class and once I caught him checking me out. It was awesome to this incredibly naive sophmore.
10. Paul Reubens. Yes or No?
Hell fucking yeah.
Friday, January 27, 2006
TV, Movies, Tags, OH MY!
I want to see this movie because 1. It's got Anthony Stewart Head in it. 2. It looks great.
Imagine Me & You
I really miss watching Highlander with Darin - the tv show & the movie.
I saw a preview for a new Harrison Ford movie. I can't remember what the name of it is, but it appears at least that Mr. Ford is going back to his element : the action thriller. Please, Mr. Ford; never again the Random Hearts.
So Smallville last night actually made me shed one or two tears. (SPOILERS) Not that I didn't know what was going to happen (cause I did) but it was very well played out. The cinematography was really nice too. John Schneider died really well. But Clark crushing the stone to produce a diamond and then using his heat vision to set it into a band - now THAT'S how you propose to a woman!! :)
My Queen Bee tagged me so here we go:
4 jobs i've had:
* waitress
* contact lens technician/doctor's assistant
* inside sales/marketing
* receptionist
4 places i've lived:
* columbia, sc
* (never lived anywhere else)
4 movies i could watch over and over:
* Grease
* 1776
* To Kill A Mockingbird
* Singing In The Rain
4 tv shows i watch (currently on air)
* lost
* scrubs
* boston legal
* grey's anatomy
4 places i've been on vacation:
* maggie valley, nc
* myrtle beach, sc
* new york, ny
* dallas, tx
4 websites i visit daily:
* banned on the run (http://skin2skin.proboards21.com)
* whedonesque.com
* fanforum.com
* blogger
4 of my favorite foods:
* sushi
* ice cream
* any and all mexican food
* salmon
4 places i'd rather be right now:
* greenville, sc with my husband
* any part of yellowstone national park
* touring scotland (and possibly stalking ewan mcgregor)
* williamsburg, va (i'm such a sucker for history and museums)
4 bloggers i am tagging:
and here I break thre rules and not tag anyone because every blogger i know has already done it.
Thursday, January 26, 2006
Reality
To prove that my boobs aren't ginormous. A more loose fitting top (& straight out of the shower w/ unbrushed hair)
So, last night I showed my house to the first potential buyer and she's
making me an offer today. She's been burned already - put an offer on a
house and lost it so I'm hoping that scares her into making me a full
or close-to-full offer. Keep those fingers crossed!
Wednesday, January 25, 2006
Songs & Quotes
For Adam:
Here are some Jem songs. They're great. At least, I think so. Hope you like.
24
Flying High
They
Come On Closer
Save Me
Here's my tshirt that I'm wearing today. (Pay no attention to the stain I put on it this morning). If you don't recognize the quote then I command you to watch Buffy Vs. Dracula (5.1) RIGHT NOW!
Tuesday, January 24, 2006
Goodmorning All
First off, let me say I'm extremely pleased with my latest header. I know it's simple and I'm such a novice but it's very pleasing to my eye. I like the coloring and it's "dark" which is exactly what I wanted for Spike's obsession. I heard that song (Obsession) the other day and couldn't get the idea of this header out of my head. To me, this defines the B/S relationship.

Last year sometime I heard Jem's "Save Me" on a promo for a tv show and instantly loved it so I soon downloaded it along with a handful of her other songs. But for some odd reason, I just never got around to listening to them. Last week, I did some massive burning of mp3's (trying to clean off my hard drive here at work) and I have been TOTALLY loving my Jem tracks. I think I'm going to have to buy her cds because I'd like to have all of her music now. Although JEM to me, will always be Jem & The Holograms. I'll have to call this Jem - Jem2.

I spent the weekend in Greenville, unpacking my house there and getting it ready for my family coming to visit. I called in sick yesterday so I could finish and I did. I'm quite tired but feel relieved. I'm glad it's done. Though I mysteriously lost a box. I can't find my spices & olive oil. I don't know what could have happened to that box of food. It's frustrating me.
I have 2 appointments to show my house that I'm trying to sell. Keep your fingers crossed for me!

Last night I caught "John Adams" on American Experience on ETV. I have always been fascinated by the biographies of John Adams and Thomas Jefferson and how interwoven their stories are. I love Revolutionary era history anyway but these two particular men are especially compelling - in their passions, their differences and their mutual love/hate relationship.

Friday, January 20, 2006
To Wong Foo
I finally saw this movie on tv last night. I'm only, what?, 7 years behind?
While predictable it was sweet and I'm very impressed with how feminine all of the guys were. Of course I knew Lequizamo would knock it out of the park. I think he's just phenomenal.
Stockard Channing was effortless as usual. I love her. But no matter whether she's portraying an abused woman, the presiden'ts wife or a bitter divorcé - she will always be Rizzo to me.
Thursday, January 19, 2006
Another Blog To Read
My favorite Buffy writer, Jane Espenson, has a new blog and I'm uberly excited!
"Writing for Buffy was unusual among TV writing jobs, in that it actually results in writers -- not just performers -- having fans. This is, I must say, lovely."
I've linked it on the right. Read it bitches!
Last night I dreamed I had sex with Jack from Lost. It wasn't a Lost-related dream though it had very outdoorsy, interesting sets. I've never particularly lusted over Matthew Fox but the dream was great nonetheless. I guess because he was the focus of last night's episode and I was thinking about his character prior to going to sleep. I always swear when the show goes off that I'm going to stop watching it and then, come Wednesday and I'm sitting there at 9 pm on the dot. I'm all talk.
Tuesday, January 17, 2006
Rock'N'Roll Express
I was reading Bee's post and remembered a t-shirt I wore with love and pride as a tween. It said "My Heart Belongs To Ricky Morton". Ricky Morton was 1/2 of the dynamic wrestling tag team "The Rock 'n Roll Express". They were very 80's and wore bandanas all over their legs. They entered the arena hopping and jiggiling to "Your Momma Don't Dance (and Your Daddy Don't Rock N Roll)". They always made a hand gesture lowering their ring & middle fingers and my brother and I just thought they were
IT
. My brother even made his friend dress up as Ricky Morton's partner and he dressed up as Ricky for halloween one year. I have the video to prove it.
So upon reading Bee's post and remembering this childish infatuation I had - I googled Ricky Morton and lo and behold, he has a poorly maintained "official" website complete with bad photographs. I looked at him and said, "Eek. That is one helluva mullet."

Ah. What you see through the eyes of youth, right? Well, in 1984, mullets were cool. And I had a thing for blonde men (Hello, Bo Duke.) What I find so interesting about these couples from the 80's is that the women's hair and the men's hair always matches. They both look very poofy with AquaNet hairspray and peroxide. Also, while perusing these grainy photographs I noticed that his partner, Robert Gibson, always seems to be physically leaning on Ricky as if he can't stand on his own. Not a good sign for a wrestler.

Tonight on TV:
2 episodes of Scrubs! Yay! Unfortunately it comes on at the same time as Supernatural which guest stars Julie Benz (Darla) so I'll have to tape that. And then Boston Legal. And if the previews are to be trusted, I will need to place my box of Kleenex beside me.

Monday, January 16, 2006
Saturday Night Fun
Sure had a fun time at Beth's bowling bash this past Saturday night. I
was playing so shitty the first game and then I finally starting
rolling some strikes and spares into the second game. But then after
the 4th frame we hit over prepaid limit and the fuckers cut off our
game. I was so bummed. Just when I was kicking ass. Beth totally cracked me up with her "Trot & Hop" prior to tossing the ball down on to the wooden lane. Some pics of the
festivities - never mind the blurriness and odd coloration. Me & My
Husband and Me w/ the Queen Bee.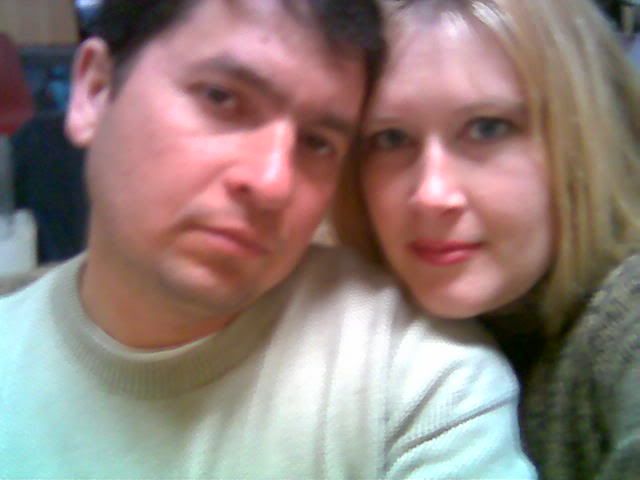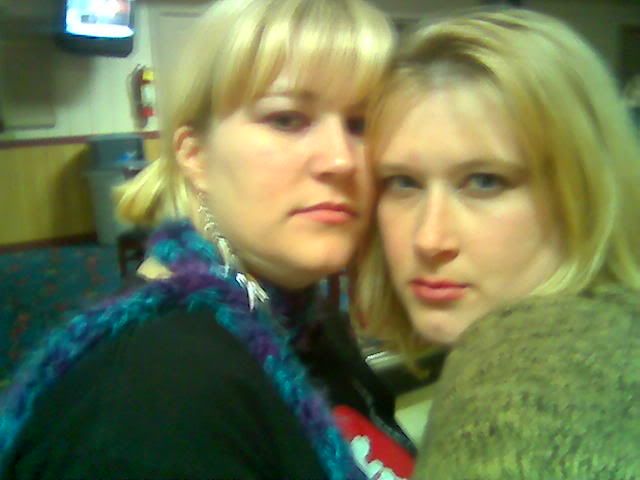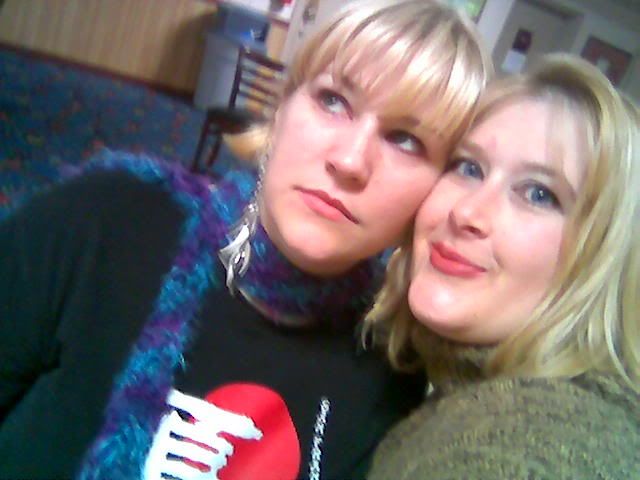 We also put our house up for sale this weekend. Keep your fingers crossed it sells quickly! :)
Friday, January 13, 2006
New Things
I tried to venture outside of my normal style of headers today and create a round one. I like the way it turned out - for my first one. I really need to tackle more issues with this InDesign CS. I would like to know how to seperate foreground and background attributes in a photo. (if anyone knows, give me a hint please!)
My husband comes home tonight. This pleases me. Although I can tell I'm going to start pms'ing (the tell-tale signs of my body) so I hope tomorrow morning I don't feel differently. Our plans for the weekend? I'll give ya three guesses. Work on the house. Just a few finishing touches to be put on the inside of the house, get the carpets steam cleaned and a bit more yard work and it'll be complete and ready for a new buyer. But there is fun on the horizon. Bee's bowling birthday bash Saturday night. Hubby is bringing our bowling shoes home so we'll be ready. Watch out Bee ~ CrystalPistol is going to knock 'em out!
get it? bowling joke.
Thursday, January 12, 2006
Video Post
Click
here
to download a video post. You need RealPlayer to watch.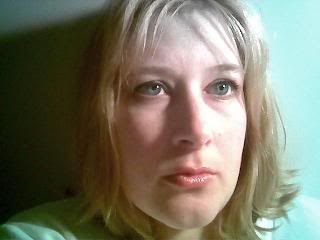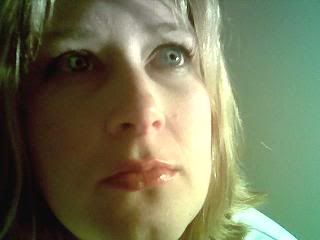 Wednesday, January 11, 2006
Sleepy Baby
When I see my Lucy Lulu sleeping, she looks so cute and cuddly and warm
that I have to stop what I am doing to curl up beside her.
Tuesday, January 10, 2006
Ready To Move On
Oh my gosh but I do love my header. I just get chills from looking at David's biceps.
It's been nice staying with my grandparents. But I'm ready to move on. PawPaw means no harm, but he interrupts constantly while I'm trying to watch Buffy and Angel and it grates on my nerves. He is so set in his ways that he won't let me help him do chores around the house and it makes me feel guilty. Plus, I miss my husband. When he comes home on the weekends, it's good but it's not like we can "be together". I just can't do that in my grandparents house.
It's hard to live out of 3 homes.

Monday, January 09, 2006
Recap & Color Play
This weekend was devoted to work (as they almost always seem to be). Hubby and I cleaned out an enormous amount of stuff from our garage and attic. It seems crazy that humans can collect so much stuff. I did find a bit of time Sunday morning to pull out my season 1 of Angel and watch a couple of episodes. I realized for the first time that the group of vampires killed in the teaser of the very first episodes is lead by none other than Josh Holloway (aka Sawyer on Lost)and he is credited as "Good Looking Guy" ~ that cracked me up. But of course, now that I've been watching season 1 again, I can't stop thinking about it. I'm trying desperately to remember all the things I want to of seasons 2, 3 & 4 but I've only seen them once and it's been awhile. I REALLY need to get those dvds. I wonder if I'll ever get over my Buffy and Angel obsession. Actually, I hope not because as weird as it may seem to some of you - I get immense pleasure out of it.
I've been trying to play around with my Adobe InDesign CS program. I want to learn more about to blend photos and texturize them. I have also been trying to play around with color tones. What do you think of these?
Bright Light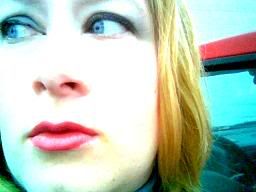 Bluey
Devil Crystal
Magenta Hints
Saturday, January 07, 2006
Tales of an Ordinary Girl
I read this from Kristen @ E!
As a girl who takes her Everwood and James Marsters very seriously, I still can't get over the former's heartless time-slot move and midseason hiatus (more below) or the most blatant publicist lie of the year: that Marsters would not be coming to Smallville. Granted, I'm still a Froggy whore at heart, but these two moves left me a bit miffed.

Looks like Brainiac won't be back on Smallville. Let's have a moment of silence.

Friday, January 06, 2006
I'm Kaylee!
Your results:
You are Kaylee Frye (Ship Mechanic)
| | | |
| --- | --- | --- |
| Kaylee Frye (Ship Mechanic) | --- | 90% |
| Zoe Washburne (Second-in-command) | --- | 65% |
| Wash (Ship Pilot) | --- | 55% |
| Derrial Book (Shepherd) | --- | 45% |
| Malcolm Reynolds (Captain) | --- | 40% |
| Inara Serra (Companion) | --- | 40% |
| Dr. Simon Tam (Ship Medic) | --- | 40% |
| Alliance | --- | 25% |
| Jayne Cobb (Mercenary) | --- | 20% |
| River (Stowaway) | --- | 20% |
| A Reaver (Cannibal) | --- | 10% |

You are good at fixing things.
You are usually cheerful.
You appreciate being treated
with delicacy and specialness.

Click here to take the Serenity Firefly Personality Test
Thursday, January 05, 2006
Warhol Style Crystal
Wednesday, January 04, 2006
Life Changes
I feel so sad for the family of those poor miners. You wonder why men are willing to do those jobs. It's so dangerous and they have such horrible health conditions from it. But then you figure, there probably isn't much else work to do and they've been miners for generations.
My best friend and ex-roomie, Darin (aka Monkeyboy) called me last night to tell me that he asked his girlfriend to marry him and that she said yes. And not only that but he has a truck! My world no longer exists as I knew it. The edges of reality are blurring.
I saw Darin date - but I never saw him drive so him having a truck seems even stranger to me than the confirmed bachelor getting engaged. I'm so happy that he's happy. I really am. But it worries me a bit. My first reaction is of course, no one is good enough for my Darin. He's got the biggest heart of any person I know (
other than my Aunt Cici
). I've never met Sandy (
that's her name - of course I love that - Sandy Olsen? Hello!
). Will she accept mine & Darin's relationship for what it is? When a male and female have a close, intimate relationship it often is not taken well by new lovers. Not that my intimate relationship is inappropriate (
intimate does not equal sexual gutter brains!
)
But Darin and I have always had a very huggy, touchy relationship. We talk about anything and everything from sex to politics. My husband is cool with it because Darin introduced us and we were all friends prior to my husband and I dating. But how will this new woman in Darin's life take me and my friendship with Darin? Will it be threatened? Will it be forced to change? Will I be able to just phone him anytime I want and chat? My mind is heavy. Me & Darin: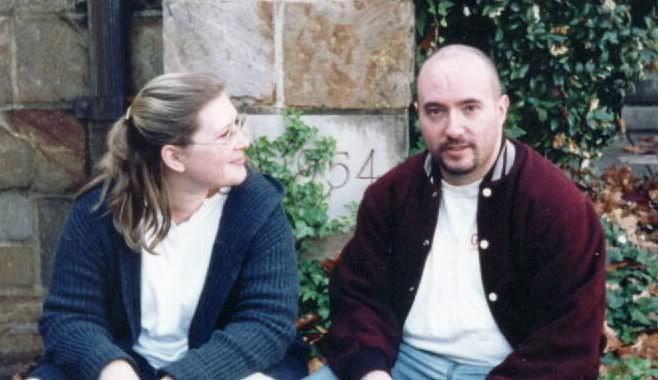 On a lighter note, Scrubs was on last night. The first half of the first ep kinda dragged but it picked up quick. JD running around in his underwear will never fail to make me laugh. Donald Faison has lost some weight! And I'm LOVING his facial hair!
This is what I see when I first wake up:
This is what Lucy wants to do CONSTANTLY:
My favorite picture of Lucy as a pup: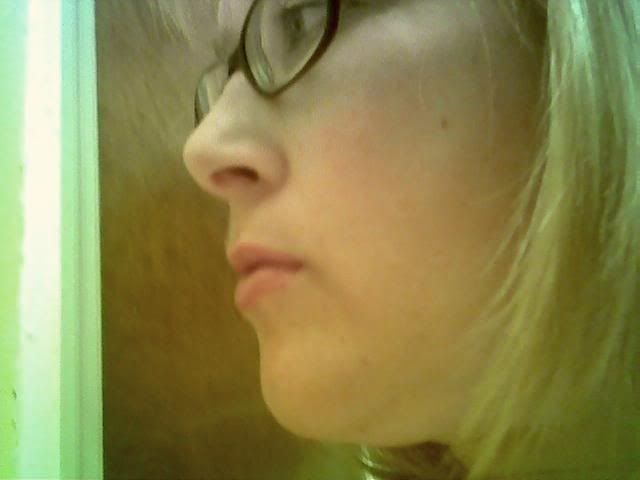 Tuesday, January 03, 2006
WhooHoo!
Yay for there FINALLY being a Scrubs premiere tonight!!
I haven't seen any promotions for it on NBC but they have it listed on their websites. And not just one ep - but TWO! 9pmEST My Intern's Eyes; 9:30pmEST My Rite of Passage.
Don't Miss It! (or I'll kick your ass!)
Sunday, January 01, 2006
Happy New Year
Awww. Y'all do love me! :)

I hope you all had an awesome new year's celebration. I sat up and watch "I Want This" on HGTV and said, "Yep. I DO want that." At midnight, I watched the gorgeous fireworks through the bedroom window and then went promptly to sleep thanks to the aid of my cold medicine. Thank goodness for cold medicine.