Thursday, December 29, 2005
Where are all my blogger buddies?
I'm sick and I need something to cheer me up.

Blogger buddies, where are you?

Tuesday, December 27, 2005
Playing Catch Up
I was able to watch 3 movies over the holiday break.
The Island
starring my main dream honey, Ewan McGregor. The movie sucked but he looked oh, so good. There was a scene in which there were
2
Ewans. And Lordy, my mind ran wild with the fantasies!
Also watched
Spanglish
. That was a super sweet movie that makes you want to nominate Adam Sandler for man of the year. And
MindHunters
starring Kathryn Morris (from Cold Case) and LL Cool J. It was pretty good. A tad predictable in the end but a very fun ride there.
Christmas was nice. The whole family got together and exchanged white elephant gifts and we laughed a ton. I hope you all had a great holiday.
Thursday, December 22, 2005
Again With the Radioactive
...as Bobi would say. I HAVE to load a photo editing program on my home pc.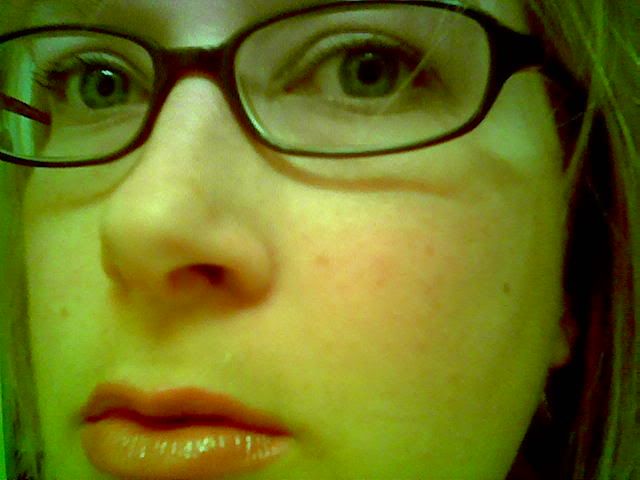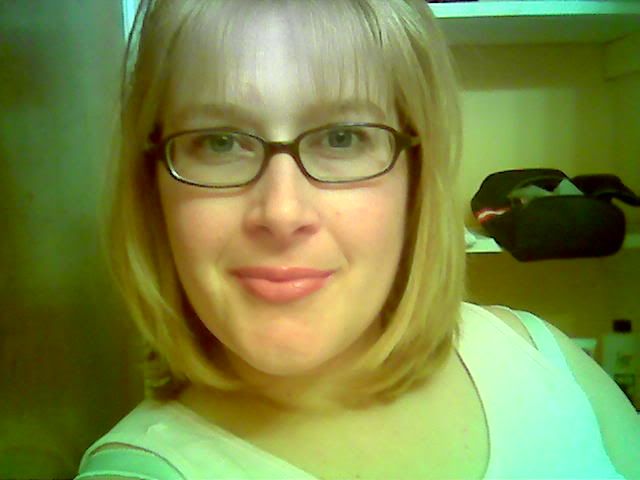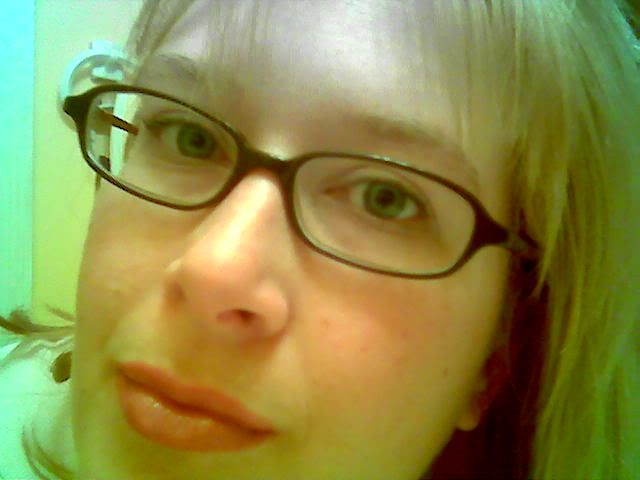 Wednesday, December 21, 2005
Setting the Record Straight
I think most guys are under the impression that women always go for the bad guys or the guys that treat the girls like shit.

Well, I'm here to tell you that some girls go for the good guy. I've always been more for Blaine than Jack. The good guy who takes care of his family and stops to pick up dogs that are running beside the road - get me every time. Soft, sweet and sensitive (but not a momma's boy) yet manly, industrious and geeky.

I have a christmas gripe.

A few years back people complained and complained that It's A Wonderful Life was shown too much during the holidays therefore making it being shown only once during the season.

However, now, A Christmas Story (which I love) is shown like 50 gazillion times. That's not fair. Plus, I think TMC has shown Holiday Inn 5 times already.

Tuesday, December 20, 2005
I Wish It Were Thursday
I saw a terrible wreck this morning and I keep thinking about the drivers, hoping they are okay.
On a bright note, the radio station played Garth Brooks "Go Tell It On The Mountain" this morning, which I love. I went through a HUGE Garth stage in high school - paid an arm and a leg for concert tickets. It brings back so many good memories to listen to him. He puts on a damn good concert too.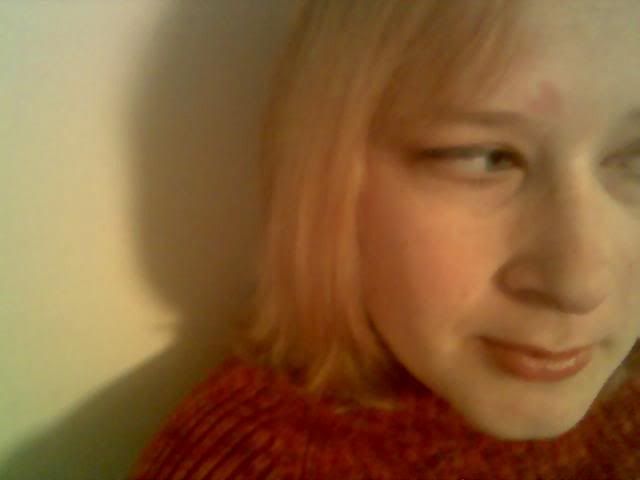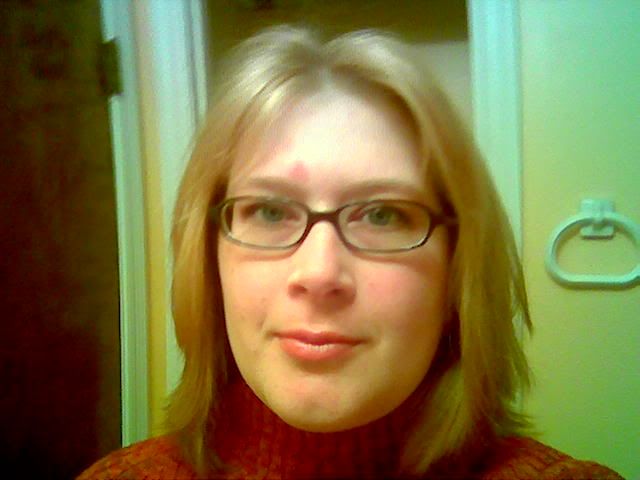 Monday, December 19, 2005
New Hairdo
I'm bummed because I decided to dye my hair all by myself for the first time and I wanted to go reddish blonde (NOT blonde reddish). As it is, it only turned out vaguely strawberry blonde. Boo. I wanted something drastic. (don't mind the au natural crystal [no makeup])
Friday, December 16, 2005
Self Portrait Friday
I never am able to participate in self portrait wed but i had these photos so I'm making it self portrait friday. I tried to manipulate the colors a bit but the overall quality of the photos isn't the best so....
BTW, I'm opening back up guest commenting because my best friend never comments because I have that blocked. Why he won't just sign up for an account is beyond me.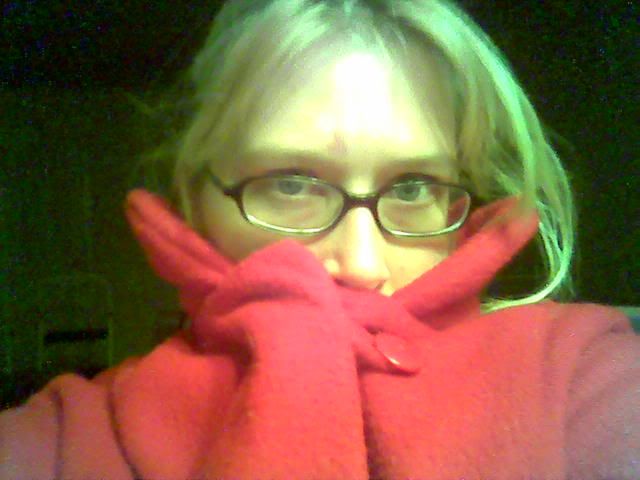 Thursday, December 15, 2005
Aaaaaah!
I TOTALLY didn't know that David Boreanaz was in the Dido "White Flag" video! With longish hair too! Damn! I'm gonna wear that thing out!

Expectation
So have you seen the preview for
X3
? It looks pretty awesome but I'm suprised at the amount of new characters. I hope they don't just go for fancy special effects and try to fit so many cool mutants in that they lose the story. A movie can have the best actors in the world and be complete shit if the story isn't there. But I'm all excited about see Jackman as Wolverine though. Too bad Nightcrawler isn't back. I liked him a lot. I think Alan Cumming is one of the most underrated actors in Hollywood.
Good Music
Bee lent me Nickel Creek's latest cd so I could burn it and I'm majorly enjoying it.

Monday, December 12, 2005
The Ultimate Interviews
Well, not really but they are pretty damn sweet.
A very insightful interview with
David Fury
sparks a post by
Tim Minear
on an Angel board. Tim gets lots of funny replies from fans including,
"And now I take my lips AWAY from your ass."

A rep here at work brought us a giant plate of delicious cookies. I think she's the devil spawn.
I raked my yard yesterday and intense cleaned the bathroom tile in my house in preparation of putting it up for sale. Tonight I begin the paint touch-ups! Thank goodness I don't mind painting! Oh, and the wallpaper came down easy - I was lucky.

Friday, December 09, 2005
Go Away
I just don't get all the bah-humbuggers. Christmas time has never been anything but happy for me. Christmas songs are sweet and uplifting; Lights & Decorations are pretty; Giving is such a good feeling; Being with family is so fun. Why do so many people hate the holidays? Why do some people constantly focus on the negative and make it so much worse? I'm sorry you didn't get the toy you wanted when you were 5 but does that mean that every Christmas has to be horrible and that you have to complain about everything?
Bring back the Christmas cheer damnit! Although I do like the "12 Pains of Christmas" song.

Thursday, December 08, 2005
Melancholy
I recently watched
The Wish
again and that episode makes me feel so sad. It's awful to seeing Buffy not caring for Angel or the Scooby gang and to see them all killing each other. Ack. On the other hand, the music is great , the slow motion action scene is really well balanced and edited. Not to mention, the introduction of Anya and Willow & Xander vamps were quite hot. They make her & Xander seem so devoted to each other in this ep yet they break that all up in Dopplegangland. I wish they hadn't. ( Oops, I shouldn't have said 'wish', huh?) Anyway, I walk away from it with a heavy heart.
Last night I got to babysit my cutie nephew, Lucas who just
adores
my dogs. He and Lucy Lulu played together for a solid hour. It was adorable. Now, if only I could get him to say, "Aunt Crystal."
So, I've become addicted to those fan-made videos of the Buffy/Angel verse. I would love to play around trying to make one but I lack all the proper technology.
I wish someone would make one using the song "Precious" by Depeche Mode. That song totally has me! Also, "Wicked Lil Girls" by Estero would be great to use for a Buffy/Faith vid since Faith is always trying to steal Buffy's man. Anyway, if you'd like to enjoy the vids here are some that I particularly enjoy.
Stormwolfe
's are edited very well and
Avenue Potter
is a Buffy/Angel shipper so I'm particularly fond of hers.
Wednesday, December 07, 2005
How cute is this?
Tuesday, December 06, 2005
Zach
I got tired of checking Zach Braff's blog and there being nothing new so I haven't checked it in a long time. This morning I go and there has been a video post from him for almost a month. Damnit.

Monday, December 05, 2005
Disoriented
We're moved. Well 90% at least. Hubby still has a lot of garage stuff/tools to move. But we can move most of that in the coming weeks with our own vehicles.
My fridge got scratched on the side (argh!) but thankfully, that's the only damage that was done. The rain held off until the very end but when we got to Greenville it was FREEZING. It felt like snow/hail weather. Thankfully, none occured. And then yesterday, of course, because it's SC and we have bizarro weather - it was quite warm; in the upper 60's I believe.
We stayed at my grandparents house last night and I had dreams all night about my childhood. It felt strange to be sleeping there again. But what felt more strange was to be sleeping there with a man. Even though my husband and I have been married for 3½ years now - I've never had a man sleep beside me under their roof! The dogs have stayed there before so they were cool but the cat was very disoriented!
We went to dinner Saturday night at a restaraunt in Greenville that we'd never been to nor heard of. It was very beautiful and the menu sounded fabulous. But that's where the good times ended. First, I ordered the most popular dish on the menu (according to the way-too-friendly waitress who touched us and irked the hell out of Hubby) and they come back 8 minutes later and tell us they are out. So Hubby & I both order a ribeye. 8 minutes later, "Oh, we're out of that too." We're like, "What the hell? It's 7:30 on a Saturday night!" So, I order a stuffed shrimp meal and Hubby ordered some calamari and a baked potato. About 20 minutes later they bring us our meal. Hubby's calamari is ICE COLD. He was pissed. And my meal, while the taste of it was okay, the stuffed shrimp was covered in a sauce- which normally would not be a problem. However, they left the tails on the shrimp. I don't eat shrimp tails. So, I had to put my fingers in the sauce so that I could hold the shrimp by the tails to eat it. Well, we of course, complained to the manager and expected him to comp Hubby's potato but he just deleted our bill.
Then yesterday we go through the drive-thru at Sonic and we think they forgot about us. We must've sat there for about 14 minutes. Finally Hubby went in side and said, "What's going on? You guys having a problem in here?" The poor little girl looked scared to death. They gave us our meal for free.
As we're driving home, Hubby is complaining and I'm like, "Hey! I got us two free meals this weekend!" And then we both started laughing.

Friday, December 02, 2005
Quick Post
Even though I didn't really have anything to say, I wanted to make a post because it's going to be awhile before I can post again. So, random thoughts.
My favorite DJ played a clip from one of my all-time favorite movies;
Planes, Trains & Automobiles
. Just thinking about this movie cracks me up. My favorite line? When scary redneck tells John Candy, "Her baby came out sideways and she didn't scream or nothin." And John Candy says jovially, "Really? Well, isn't that something? You're a real trooper!"
If you could see my face right now, I'm grinning from ear to ear just imagining it. I tried to win the radio contest by identifying the movie when they played the clip but cell phones are NOT good for that. They take too long to connect.
This morning they played a Spongebob clip. My favorite Spongebob episode is when he goes to school and the bully wants to kick his butt. Very funny. And my Spongebob seat covers in my car? Totally worth the $8 I spent at the garage sale for them.
I don't like the bumper stickers that say,
One Man Can Make A Difference.
Jesus Did.
Yeah, because you know you can compare yourself to the Messiah who peformed miracles and all! *note: sarcasm*
So, I'm off to do actual work. Yay! *note: sarcasm* In case I don't see you again, Goodafternoon, goodevening & goodnight!
*SMOOCH*
P.S. (can you ps a post? well I'm going to anyway.) Have you seen the previews for Jim Carrey's
Fun with Dick & Jane
? That's on my must-see list.
Check out my model: the most beautiful dog in the world
this one says, "Get out of my face"
this one says, "I
want
to sleep!"
this one says, "Did you say 'ball'?"
this one says, "Ooh. I think I heard Dad go into the fridge!"
Neat interview with
James Marsters
with behind-the-scenes comments about Buffy & Angel.
Thursday, December 01, 2005
My Stuff on Ebay
I have
two dresses
on Ebay. Buy them. Or make someone else buy them.
Am I Weird?
No, don't answer that. Ya know, I've always thought that David Boreanaz looks sexy even as a vampire.

BTW, I've added all of my wishlists to my blog. They can be found in the "About Me" section in the top of the right hand column.