Monday, October 31, 2005
Tony, Tony, Tony
Alright Tony! Did you make
this
picture??
Happy Halloween!
Happy Halloween to all the friends and readers out there!
My favorite dj brought back good memories this morning with the mention of "Puttin on the Ritz" ala Young Frankenstein. I don't think I've ever laughed as hard as I did the first time I saw that scene. I think all of my neighbors in the apartment building heard me.
I am anxiously awaiting
Beth
's pictures of her Ghetto Fabulous halloween costume that she donned over the weekend. I bet the girl pulled out the bling-bling!!
I rented
The Village
and
Sideways
this weekend. I liked both of them very much. I thought The Village was an interesting story and was very visually beautiful. Sideways made me laugh my ass off. That film topped with last night's kick ass
Grey's Anatomy
episode has definately secured Sandra Oh in my favorite actresses list! (Yes, I said actress. I refuse to be politically correct and say actor!)
Friday, October 28, 2005
Hello, this is my boring life
So last night I did little other than watch Survivor & Smallville.

While it's not the most exciting season of Survivor it's still far superior to any other game/reality show out there. The challenges are extremely creative too. I sooooooooo want Stephenie to win but at this point I'm unable to pinpoint who will be the final three. I'm usually good at that.

Smallville. Well, I'm kinda torn over last night's episode. It had one really fantastic moment that made me laugh, rewind the tape, and watch it again. Chloe is talking on the phone w/ Clark and saying he should get over there right away. Whoosh! All the papers on her desk fly about and then Clark is standing there behind her "What's Up?" LOL!! It was great! Another plus was seeing James Marsters (Dr. Fine/Brainiac) being evil for the first time. Sweet! Of course, he wasn't really evil since he only took down one of Lex's henchmen. The soundtrack was good - it usually is and I actually thought Kristen Kreuk did a good job in this ep portraying the vampire. Although, they were pretty lame vampires. I liked the whole falling down the stairs thing. And I liked her scream when Clark shoved the needle in her chest. The only thing I didn't like: James Marsters dumb line "There's no such thing as vampires." I don't like overly manipulated pieces. You know they just worked him into the scene so they could have him say this one line. Silly. I also just hate Lex and any scene with Lex in it. He's so freaking boring to watch. I didn't like the main vamp being named Buffy Sanders. I could SWEAR they screwed up - the first time we hear her name Chloe said Buffy Saunders but the rest of the show they say Sanders. Anyway, they played as though Chloe named her that to protect identities. Not sure I liked Carrie Fisher as the EIC of Daily Planet. I find her highly annoying. And did she get collagen injections in those lips? There was something else bugging me about this episode but I can't recall right now what it was.

Thursday, October 27, 2005
Tales Of An Ordinary Girl
I think The Goonies poster is probably my favorite movie poster to date. I SO wanted to be a goonie.
I also loved the Cyndi Lauper theme song too! I still have it on 45 record.
Does anyone remember the kickass video with the wrestlers in it? The dvd version of The Goonies has the extended video on it.
Wednesday, October 26, 2005
No Tales To Tell
Last night was pretty uneventful. Unless you want to hear my recaps of The Amazing Race or Boston Legal (the best show on tv you're not watching!). I would like to be in The Amazing Race but I know I'd wind up being the "bitch" of the show. No thank you m'am. I already have enough people that hate me.

This morning I woke up so calmly. It was the perfect temperature in the room & bed. My Abby baby was sleeping in between my legs and Lucy Lulu was laying along my side. We all woke up slowly together. They're so cute when they're all warm & snuggly in the morning!

Tuesday, October 25, 2005
Annoucement
Introducing an all-new blog!
Divas Dishing The Dirt
3 friends. 3 very different people. All with opinions.
Enter at your own risk.
Monday, October 24, 2005
Hubby gave an "oh yeah"
So, not long after I made my post saying my husband isn't very vocal about his female appreciation, someone made him break his silence.
Erica Durance aka Lois Lane on Smallville. When she came walking up the beach in her bikini last episode my husband panted a "DAMN Lois!"
Can't say I blame him. She is pretty hot. I'd do her.
article
Saturday, October 22, 2005
Yard Sale people!!
It was TOTALLY kick ass! The weather was gorgeous - not a cloud in the sky. I had to turn away 4 people before it was LIGHT outside. Ashley came and brought a few of her things to put in too. During the first hour - I was at the top of my driveway - she was at the bottom AND WE COULDN'T SEE EACH OTHER - that's how crowded it was!! We didn't even get a quarter of our items out until almost 9:30 because we were so busy!! I made a profit of $600.00!! I'm extremely pleased considering a huge chunk of that is just quarter - dollar stuff. We did make a couple of big sales that helped too. Did not sell my sleeper sofa so I'm gonna have to put that in the paper. No worry. Best damn yard sale I've ever had. There was one mean customer but I didn't deal with him - Ashley did. Thank goodness she was there because I really would've been stretched thin without her help. It's amazing how much stuff I still have left. I might get a table at the flea market one day in early November and see if I can sell off some more stuff. :) This made me want to have a sale every weekend!!

Friday, October 21, 2005
Damn
I had the BEST freaking dream with Ewan McGregor last night. I tried so hard to go back to sleep and continue it this morning but it didn't work.

I'm still in packing hell. I'm praying that it doesn't rain tomorrow for my garage sale and that I have a kick-ass turnout. I want to make loads of money!!

Wednesday, October 19, 2005
"where geeks go, lawyers are soon to follow"
TV Good & Bad News
Let's start with the bad. I took this from TV Guide's Ausiello column:
Question: Any updates on when
Scrubs
might return to NBC's schedule?
Ausiello: No news is bad news. With The Office struggling on Tuesdays after My Name Is Earl, the prevailing wisdom was that NBC would give Scrubs a shot in the 9:30 time slot during November sweeps. In fact, it appeared the Peacock was headed in that very direction when it announced late last week that it was benching The Office on Oct. 25 and replacing it with a rerun of the Earl pilot. But an NBC source says The Office is still scheduled to air after Earl during sweeps, so, basically, I don't know what the hell is going on. But I'm beginning to suspect someone at NBC really
hates
Bill Lawrence.
Question: I love Veronica Mars and it's all your fault. I never thought I'd enjoy a show about a young blonde chippy in high school solving mysteries, but you were right - it's fabulous! That said, give up the scoop, er, poop!
Ausiello: How 'bout some
visual
Mars poop:
Joss Whedon
playing that testy rental-car manager in the Nov. 9 episode. And to see him in action with Kristen Bell, pick up the new issue of TV Guide magazine and turn to the Ausiello Report on page 10! Also, make sure to read Rob Thomas' latest Q&A with fans in today's Insider. There are a couple of good poop droppings in there.
Question: Holy kryptonite, Batman!
Silver kryptonite
!?! What's up with that? Any details on when it shows up and what it does to Clark? Maybe it will give him super column-writing skills like your own!
Ausiello: That's the kind of first-rate sucking up that gets your question answered in Ask Ausiello, Jacob. The silver stuff shows up in Smallville on Nov. 10 and, as I teased last week, it makes Clark a wee-bit paranoid. He imagines his worst fears coming to light. Like, for instance, Courtney Love taking over the role of Lana. Just an example. (SIDENOTE: Tomorrow night's ep features
Aquaman
&
James Marsters
!)
I might have to start watching ER again. I didn't know that John Leguizamo was on it! Plus:
"spotlight guest turns by former teen idol C. Thomas Howell (Nov. 10)" (I used to LOVE him!)
I Knew The Answer!
Cell phones are not good to try & win radio contests.
They take to long to connect and therefore I just keep getting busy signals.
I am sick to death of
I get so many freakin spam emails for prescription drugs. I don't
need
viagra
!!
I'm glad my husband isn't home while I'm packing because the more I do, the more aggravated with him I get! He has SO much junk that he just won't get rid of. He's got boxes and boxes of college textbooks that just SIT there collecting dust. He didn't use this in college btw, these are books he's just gathered through the years because "They have valuable information in them". Yes they do. BUT YOU'RE NOT READING THEM!! If he read them all the time, I'd feel differently about them. As it is - I just want them out of my house. I hate having a bunch of stuff taking up precious storage space for no reason.
I want to win free gas for life like those people on The Amazing Race. It cost $48.00 to fill up my Pathfinder today.
Sidenote: Boston Legal was freakin hysterical last night!!
Dane, I found some smileys you might like:
Tuesday, October 18, 2005
My Scoobies
Here I Am Again
Just once I'd like to be able to input a template and have everything
exactly
the way I want it immediately.
I've admired this mermaid for quite awhile - since I began blogging actually - but have been unsure of it's plain jane style. The last template just wasn't working for me. It had some link issues that I could not alternate. Which dissappoints me because I was really digging the colors in it. There were a few others that I really loved because of the vibrant colors or snazzy designs but you couldn't personalize them, for instance I could not input the title of my blog. I already have my brown & maroon one that's like that.
So, I decided to try this one. Maystar designed this one. She was the designer of my first blog (The Slayer Is Punning). Everything snapped into this one extremely simply. The only thing I had to do was add in a couple of things and adjust some font sizes. I'm not happy with having the recent posts and archives bulleted but when I make them not bulleted it spaces them apart oddly and I can't figure out how to repair that. So, I'll just have to deal with the bullets for awhile.
Let me know what you guys think. Keep this one? Bring back the Brown & Maroon? Or get a new one altogether?
Monday, October 17, 2005
Hola!
Again with a new template. I still dig the khaki & maroon one, but I also wanted to have a bright, girly one that I could switch it out with. I chose this one because I like the colors, the navigation font and the customization of it.

I still, obviously, have a few things to work out (such as why the sidebar is waaaaaaay down the page) but as of now, my neck & back hurt from sitting at the computer so long and my eyes are dry and burning. So, off to bed I go. Actually, first to the bathroom to brush my teeth - THEN off to bed I go.

Hopefully I'll have all the kinks worked out tomorrow! G'night world!

Hold The Phone!!
Crystal went to a bar.
I repeat, Crystal went to a bar.
It's only been like, 2 years since I went out anywhere.
Bethies
and I went to the Art Bar Saturday night. We didn't stay long and I only had 1 beer (I was driving) but I
did
go.
We took pictures but Beth's camera (aka "the world's crappiest digital camera") washed us out. At least you can see our eyes though. *sarcasm* But I think the one I took of Beth with the lights behind her head turned out cool.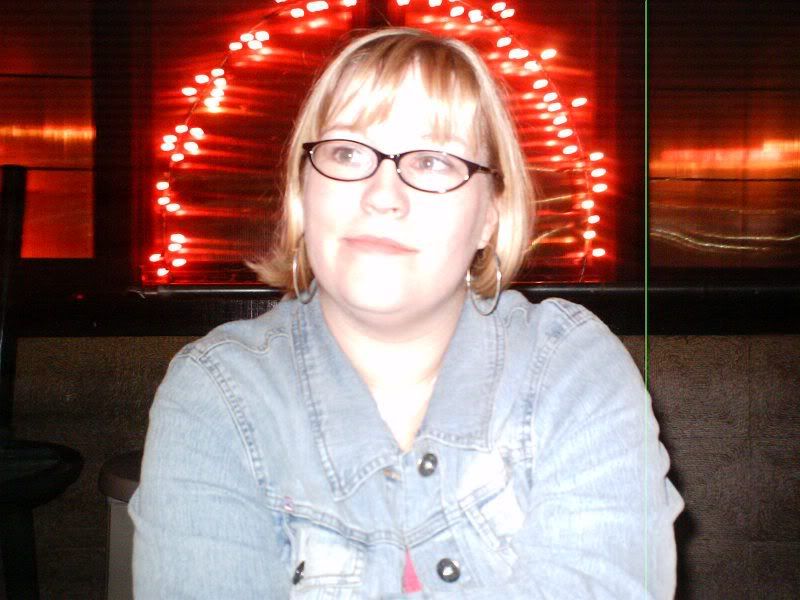 Friday, October 14, 2005
I Am Super-Buy Girl!
I'm on a super-buy high.

I went to K-Mart today on my lunch hour, just to browse, because I really like the Martha Stewart lines. Well right inside the door they had this huge clearance rack and on it was a bed-in-a-bag that was exactly what I'd been wanting. Now, bed-in-a-bag remember, is 2 shams, bedskirt, comfortor, 2 pillowcases, flat sheet & fitted sheet. It's KING size and I got it for $44.00!! Whoo-Hoo!! That's usually what I pay just for sheets! I'm SO stoked!

I tried to find a picture of the set to post but can't.

My Theme Song
So
Harry Yak
has pointed out that we should all have a theme song. I'm more of a lyrics person rather than a beat person. Based upon that, the lyrics of
"New Deep" by John Mayer
really touches me. And the tune is a catchy soft rock style which I'm willing to bet all my friends will say is very me.
I'm so alive
I'm so enlightened
I can barely survive
A night in my mind
I've got a plan
I'm gonna find out just how boring I am
And have a good time

Cause ever since I tried
Trying not to find
Every little meaning in my life
It's been fine
I've been cool
With my new golden rule

Numb is the new deep
Done with the old me
And talk is the same cheap it's been

Is there a God?
Why is he waiting?
Don't you think of it odd
When he knows my address?
And look at the stars
Don't they remind you of just how feeble we are?
Well it used to, I guess

Cause ever since I tried
Trying not to find
Every little meaning in my life
It's been fine
I've been cool
With my new golden rule

Numb is the new deep
Done with the old me
And talk is the same cheap
It's been

I'm a new man
I wear a new cologne and
You wouldn't know me if your eyes were closed
I know what you'll say
'This won't last longer than the rest of the day'
But you're wrong this time
You're wrong

Numb is the new deep
Done with the old me
I'm over the analyzing
Tonight

Stop trying to figure it out
(you try to figure, you try to figure it out)
It will only bring you down
You know, I used to be the back
porch poet with my book of rhymes
Always open knowing all the time I'm probably
Never gonna find the perfect rhyme
For 'heavier things'

Thursday, October 13, 2005
Songs That Still Make Me Sing Along
Come On Eileen ~ Dexy's Midnight Runners
Puttin' On The Ritz ~ Taco
Abracadabra ~ Steve Miller Band
Stumbling In ~ Suzie Quatro
Bitch ~ Meredith Brooks
Emotions ~ Bee Gees
Islands In The Stream ~ Kenny Rogers & Dolly Parton
Word Up ~ Cameo
Yankee Rose ~ David Lee Roth
Welcome To The Jungle ~ Guns 'N Roses
I Want To Kiss You All Over ~ Exile
Shout ~ Tears for Fears

Rant & Nostalgia
This is Heather. Sorry I couldn't get a better shot but I was trying to be sly. Heather is currently 3 months pregnant but rapidly gaining weight and calling it the "baby". She also holds her stomach constantly and moans about how much pain she's already in and how crazy her hormones are.
Heather is ALWAYS a candidate for TLC's "What NOT to Wear" but while pregnant she takes it to new heights. She wears these stirrup stretch pants everyday with black 80's style scrunch socks and black tennis shoes. Her hair never looks neat & clean. Plus she dyes it black. Are you supposed to dye your hair while you're pregnant.
Did I mention she also smokes through her pregnancy?
Bobi got me feeling a bit nostalgic. Let's walk down memory lane...
9th grade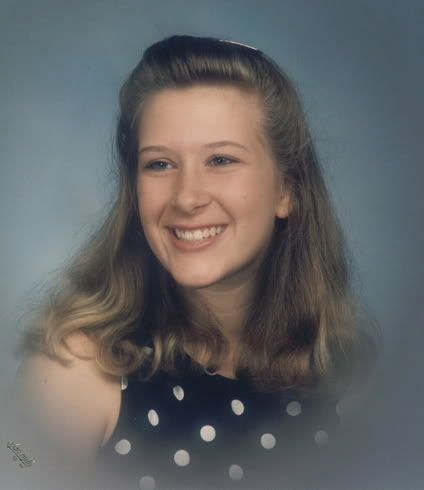 10th grade
11th grade
12th grade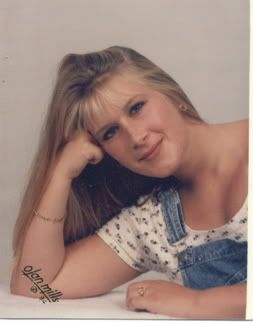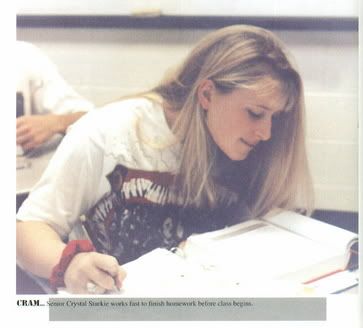 (I'm obviously the one on the left here. My sister's senior photo is on the right)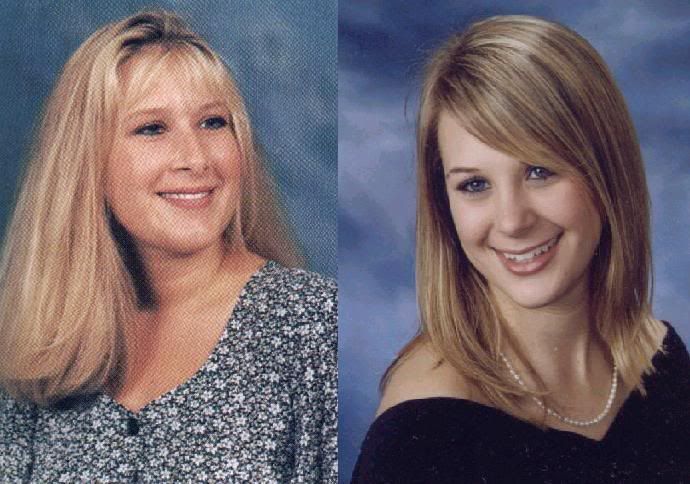 senior prom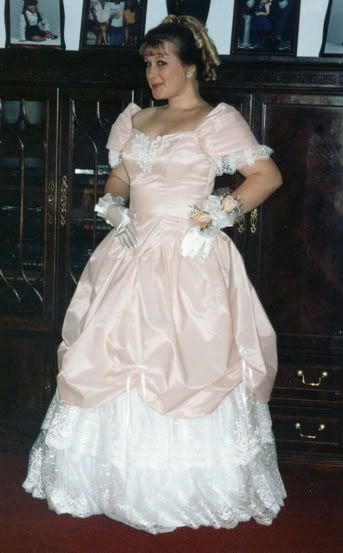 Wednesday, October 12, 2005
Fun
Gypsies, TRAMPS and Thieves
There's this temp that works for us, actually she is a temp-to-hire, and for some reason the manager really likes her so I'm guessing she's here to stay.
I get a real "druggie" vibe from her and she talks about partying & drinking a lot which to me is just a real no-no at work. I mean, you don't tell your boss about partying, ya know? Anyhow, she evidently takes her kids out with her and has to fight with them constantly on the phone - which is annoying.
She doesn't come in until 9am everyday - perhaps she has worked out a special schedule with the bosses - i don't know. I'm still baffled why some people are expected to stick to the 8-5 hours and others are not.
She just acts
strange
. And this one I guess you guys will just have to take my word for it because I know I can't properly show you what I mean. She tends to make things a lot more complicated than they are, as far as work goes. I mean, the way she does things on her computer, it's like she's going around her ass to get to her elbow. And she has a bad problem of asking you a question and then continually interrupting you so she never hears your answer. She just
won't listen
.
Now, she's telling the whole office about how her checkbook was stolen and she's received notices that she is going to be arrested for bad checks. WHY DO YOU WANT TO TELL THE WHOLE OFFICE YOUR PERSONAL BUSINESS?!
She likes to draw attention to me though. I'll be sitting over here minding my own business. I listen to my music in my headphones while I'm working. And you know sometimes I'll be smiling at something funny I'm listening to or I'll giggle over a funny email I received and she always says something like, "Crystal sure is having a good time over there!" or "I wanna know what Crystal finds so funny!" or "There's something wrong with that girl - sitting over there laughing!"
It makes me want to punch her in the nose. I'm serious. It's like she just wants to draw attention to me. Plus, it's just none of her damn business what I'm doing.
update: Just found out from my gossip girls that this temp also had a gas card stolen last week that she claims was stolen by the same person that stole her checkbook. I'm thinking she needs to look at those bad teenagers of hers.
Tuesday, October 11, 2005
My Husband's Fantasies
So, I have an extremely tolerant and non-jealous husband. I mean, he let's me tell him about the sexual dreams I have of Ewan McGregor and David Boreanaz. He just rolls his eyes and my frequent lusting over men on tv and film and doesn't mind at all that I chat with other men online. Perhaps it's because I tell him everything - I don't give him any reasons to feel like I'm hiding something.
But I was thinking the other day about how he NEVER does this. I'm sure he thinks women are hot and don't get me wrong - I notice him checking women out when they're jogging down the road or come out of the convienence store, etc... But he never comments on any on tv or film and if he does have dream fantasies - he can't remember them to tell me. So I asked him point blank, "Honey, what famous women do you think are hot?" He could think of no one once put on the spot. So over the last several days, I've asked him his opinion on certain women during shows we've watched. We've come to the conclusion that he finds the following women hot. Can't say that I disagree with him:
Katey Sagal
Rhona Mitra
who can be seen on
Boston Legal
- the best show you're not watching!!
Monday, October 10, 2005
Ah, My Computer, My Love
I just returned home. Friday night I went to Greenville to be with my husband in our new place. It's amazing how much I missed my computer. Not being able to get on for 2.5 days was just torture.
I seriously gotta get a hobby.
Only 38 days until the release of Goblet of Fire. I must say, the trailers look pretty darn good and I am quite anxious to see Ralph Fienes at Voldemort. I wonder if he'll even remotely resemble himself? If they go according to the book, he won't. But if they don't go by the book they are going to have some seriously pissed off fans so my guess is - they will.
BTW, I've changed my quote.
You know what I love? I love those Geico commercials with the cavemen. I can just
think
about that caveman saying, "That is reeeally condesending" and I just crack up! I love 'em. But I don't care about Geico.
Today's Wish: that if Joss ever makes a Buffy/Angel movie that Buffy will remember the forgotten day
Current mood:
sleepy
Currently listening to:
Dane & Bobi's audio post
Friday, October 07, 2005
Lucy Video & Meme Creation
That evil frisbee must be shaken!!
video here
I've decided to start my own meme. I must admit, though, that I did not create all these questions. Most of these were asked by my buddies at
Banned on the Run
.
What bands/songs when they come on do you reach up and change?
Bon Jovi, Color Me Badd, Backstreet Boys
What is currently underneath your bed?
a box full of the greeting cards I've received over the years
If you could only eat one thing for the rest of your life what would it be?
peanut butter & jelly sandwiches. After a while you're going to hate whatever it is so you might as well make it something that's just "blah" already.
Favorite character from The Simpsons?
Mr. Burns
Favorite superhero?
Buffy (duh!)
Worst hair disaster?
My brother giving me a home-made spike
Best Christmas present ever?
Hmm, tough one. probably when I was 8 and I got a turntable and Madonna -Like A Virgin and Tina Turner - Private Dancer albums
Favorite sandwich filling/favorite thing to eat on toast?
Cheese
Worst advice you've ever been given?
"Dance! No one is looking!"
Letterman or Leno?
Leno
What are you most afraid of?
losing my loved ones
What position do you sleep in?
all. mostly on my stomach though
Would you rather freeze to death or burn?
Geez, what kind of question is that? Eck. Freeze I suppose.
Have you ever sucked dick for coke? If yes, then what are you doing later??
um. No. I swear.
5 Funniest People:
1. Joss Whedon
2. Chris Rock
3. Jack Black
4. Jim Carrey
5. my best friend Darin
What singer would you like to perform with?
Olivia Newton-John

What's your movie fantasy?
Being the spandex clad Sandy in the finale of Grease
Sometimes when you're walking around, do your balls get sweaty?
yes

I tag:
Ashley
Bobi
Rowan
Shu
Beth
and Dane
(I don't care if you don't like meme's. I wanna hear your answers people!)

Thursday, October 06, 2005
Can't. Stop Blogging.
Introducing a new feature to Tales Of An Ordinary Girl;
Crystal's Monthly Recommendations
!
First Up:
Inspired by Tennessee Williams' play. Brought to life by Hollywood's biggest stars. He's the wrong man to love. How could it all seem so right? Robert Redford and Natalie Wood headline this sexually charged Depression-era drama. Redford (whose next film, Barefoot In The Park), would rocket him to stardom) plays Owen Legate, a railroad official come to backwater Dodson, Mississippi, with a pocketful of pink slips for the yard employees. Wood (at age 28 already a 23-year screen veteran) portrays the town flirt whose affair with Legate ignites her mother's - and the town's - revenge. Repressed desires, sultry women, sweltering weather and a handsome stranger... this is Tennessee Williams territory. And with stars Redford, Wood and co-star Charles Bronson, it's all prime property.
(from amazon)
Look!
Dane
& I got to meet!
Order In Which I Would Make the Whedonverse Men My Sex Slaves
1. David Boreanaz (Angel)
2. Alexis Denisof (Wesley)
3. Sean Maher (Simon)
4. Christian Kane (Lindsay)
5. Nathan Fillion (Mal)
6. Nicholas Brendon (Xander)
7. Anthony S. Head (Giles) (if he is singing it might make him rank higher)
8. James Marsters (Spike)
9. August T. Richards (Gunn)
10. Alan Tudyk (Wash)

Honorable Mentions:
Tom Lenk (Andrew)
Jonathan Woodward (Knox, Holden, Tracey)

It's so early...
Wow. I'm still reeling from the serenade I received through these ear buds. Dane & Bobi singing. My life will never be the same. Although all the random "I'm drunk" squealing did hurt my ears a little bit.
I stumbled across this picture of my brother, Rivers, in the newspaper last night.
He's the one in the middle. It's a couple of years old so he's much taller and more mature looking now. But I still think it's cool. He was accepted into the Governor's school for the arts and he's studying voice & theater. It's a hard school to get into so we're real proud of him.
This is one of the few things I hate about this blog template. The pictures have to be so small to fit. I gotta find out how you adjust the column size.
It's not in a percentage Tolbs :(
Plus, I don't like that there's not a space for my blog title anywhere. I can fit it in at the top of one of the columns, but it just doesn't look right.
Current Mood:
content
Currently Listening to:
Voices Carry by Til Tuesday
Wednesday, October 05, 2005
Angel Video
Have you seen this fan's Angel Music Video? Damn, it makes me hot. I could watch it over and over and over and over and, well you get the point.
It's
here
.
Recalling one of my favorite Scrubs moments:
Elliot: So is this, like, the best moment you guys have ever had?
***FLASHBACK: TURK AND J.D.'S APARTMENT -- KITCHEN
J.D. pours himself a bowl of cereal and picks the prize out of the bowl.
J.D.: A decoder ring! Heh.
He continues pouring, and another prize is heard hitting the bowl. He digs it out.
J.D.: TURK!
Turk arrives from the other room.
Turk: What?
J.D.: [holding up both prizes] It finally happened!
Turk: [in awe] A double-prizer?
They shout excitedly and bounce bellies.
***
Turk and J.D. look off in the distance recalling the memory.
Turk: That was awesome.
Carla: You guys realize you're doctors, right?
J.D.: Double secret decoder ring-wearing doctors.
They hold out their fists, displaying their matching decoder rings.
J.D.& Turk: [touching rings] ACTIVATE!

Oh my FREAKIN Gosh!
I had the most traumatic experience of my life last night.
So I sat down on the toilet. I picked up the roll of toilet paper and a cockroach fell out, down my hand and across my naked nether-regions. I screamed so hard that my throat was sore for about an hour afterwards. It crawled away so fast back under the window ledge where I assume it got in - I wasn't able to kill it. I was not able to use that restroom again last night or this morning.
*shivers!*
On a different note, I watched the premiere of
Close to Home
last night starring the uberly sexy Christian Kane (Lindsay from
Angel
). It was very very good but not enough Christian. I also flipped back and forth in between The Amazing Race & My Name Is Earl. You're right Bethies, Jason Lee CANNOT look ugly.
Current Mood: content
Currently Listening to: Eyes Without A Face, Billy Idol
Tuesday, October 04, 2005
I work for Mr. Burns
I'm really concerned over this $5,600,000,000.00 the Bush Administration has promised for relief & military efforts. I mean, where the hell is all that money gonna come from? Does this mean we'll be driving through gigantic potholes for the next 4 years? Does this mean, we'll end up having to purchase the desks our children sit in at school because the school can no longer afford to provide them? Or does it mean that we soon will all have to learn Chinese because China will soon own us? It's craziness and it's downright scary!
My boss SEVERELY pissed me off yesterday. He is an elderly man and quite whacky so you take everything he says with a grain of salt. But sometimes he just pushes my buttons. When our receptionist has left early and can't take our out-going mail to the post office - he takes it. Well, I wasn't sure if he knew that she was already gone so on my way out, I took the mail to his office and I asked him, "Mr. O are you going to take the mail?" He said, "Well, I will. You can just leave it here." I said, "Okay." Then he says, "You know you didn't say please. It's polite to say please."
Well, now. I'm sure I have my moments of rudeness like everyone but in general I believe I am a polite person and goodness knows there are other employees here who are A LOT more impolite than me. Even so, this is the 2nd time he's done this to me, so I said, "Mr. Oliver I wasn't
telling
you to do something I just
asked you a question
." and he said, 'Well, we have to remember to say please. I am teaching my Grandchildren that." By this point I had made up my mind that I wasn't going to say it if I started bleeding so I said, "Well, Mr. O what's good for the goose is good for the gander." And he got irritated and said, "Well, you don't have to say it." and waved his hand in a complete brush-off. I was SO DAMN mad that I fumed the whole drive home.
I wanted to say, "You know what? You're not my father and I am 28 years old and it's not polite to correct me." Plus, there have been MANY times that I have cleaned up after him (because he is DISGUSTINGLY messy) and I've
never
pointed it out to him and made him say thank-you, which
is
polite.
This morning he whispered to the office manager that he wanted to meet with her and then they went behind closed doors so I am sure that he was complaining about me. Too bad. What they gonna do? Scold me for not saying "please" when common etiquette didn't even require that I do so?
ANYWAY. On to happier topics.
Bobi
tagged me so here I go:
A Few Things Of Which I'd Like To See The Return
1. Leg Warmers
2. Women wearing cool hats like in the 1940's
3. Elvis Presley
4. John Hughes movies
5. the electric organ in music
6. disco-techs
7. real big band dinner theaters like in the classic movies (minus all the smoking people)
8. Buffy, Angel & Firefly to tv & Scrubs (midseason! wtf?)
9. roller skates & roller skating everywhere
10. Bill Clinton as president
Current Mood:
cranky
Currently Listening to:
Abracadabra - Steve Miller Band
Monday, October 03, 2005
New Season, New Blog
You might notice a bit of a change here at Crystalland.
I've been wanting to change the look and feel of my blog for awhile but just hadn't found a style that suited me. I stumbled across this one from
Blogfrocks
and fell in love with it instantly. The star really attracted me. I love the colors and the sleekness of it - as if I run my hand across it I'll feel that cool metal feeling like the side of an airplane. It's whimsical while still contemporary. A mixture of styles and textures - which is exactly me. I can't pinpoint a style for myself because I like so broad a range of styles and colors. As soon as I think I'm a traditional person, I find myself drawn to an ultra-contemporary piece of art. That probably doesn't come through in my writing but that's me.
When I make a change though - I like to make a
change
. Radical. Take the risks with design. Now, I'm not a risk taker in all walks of life but with design - if I'm able, heck yeah! It can always be re-done.
You might wonder why I moved away from the slayer address. Well, I didn't feel this template fit in with the slayer theme. Plus I felt like perhaps I was beginning to define myself completely by my love of the buffyverse. Sure, I'm still gonna talk incessantly about it (especially seeing as how I just viewed
Serenity
this weekend.) But I want there to me more of me out here in the world than that.
You'll notice I still, however, went with a 3 column, centered design. I like to make good use of a space and that includes a monitor screen. I will probably ask the designer however, if I can widen the columns just a bit. I still have some work to do on it - like why those spaces are there in the blog links (it's not in the code so I haven't figured it out just yet). Plus there is a calendar feature on the template for this blog but it's not in the code so hopefully I'll have that up soon.
So, enjoy looking around and please, tell me what you think. Comments, suggestions and obvious flattery are welcome.
Saturday, October 01, 2005
Serenity
*spoiler FREE*

I loved it. Perfect Joss blend of funny as hell and made-me-cry. It had several moments of action that I didn't expect. Being one of the people that had seen the tv show I think he did an EXCELLENT job of setting the story for folks who hadn't seen the show yet keeping it fresh for people who had. That was A bit tricky and I think he pulled it off perfectly. Of course it did have a slightly different feel from the show- there wasn't proper time to gain a bond with each of the characters as in the show but I expected that. Joss stayed EXTREMELY loyal to his fan base. He gave us what the fans had been asking for which I think is so great. The acting was very enjoyable to me. There's only one of the actors who I've always been just kinda "eh" about.

I don't think I've had time to process it all just yet. But I'm going to see it again in about an hour with my husband. I'll probably have more thoughts about it after a second viewing.